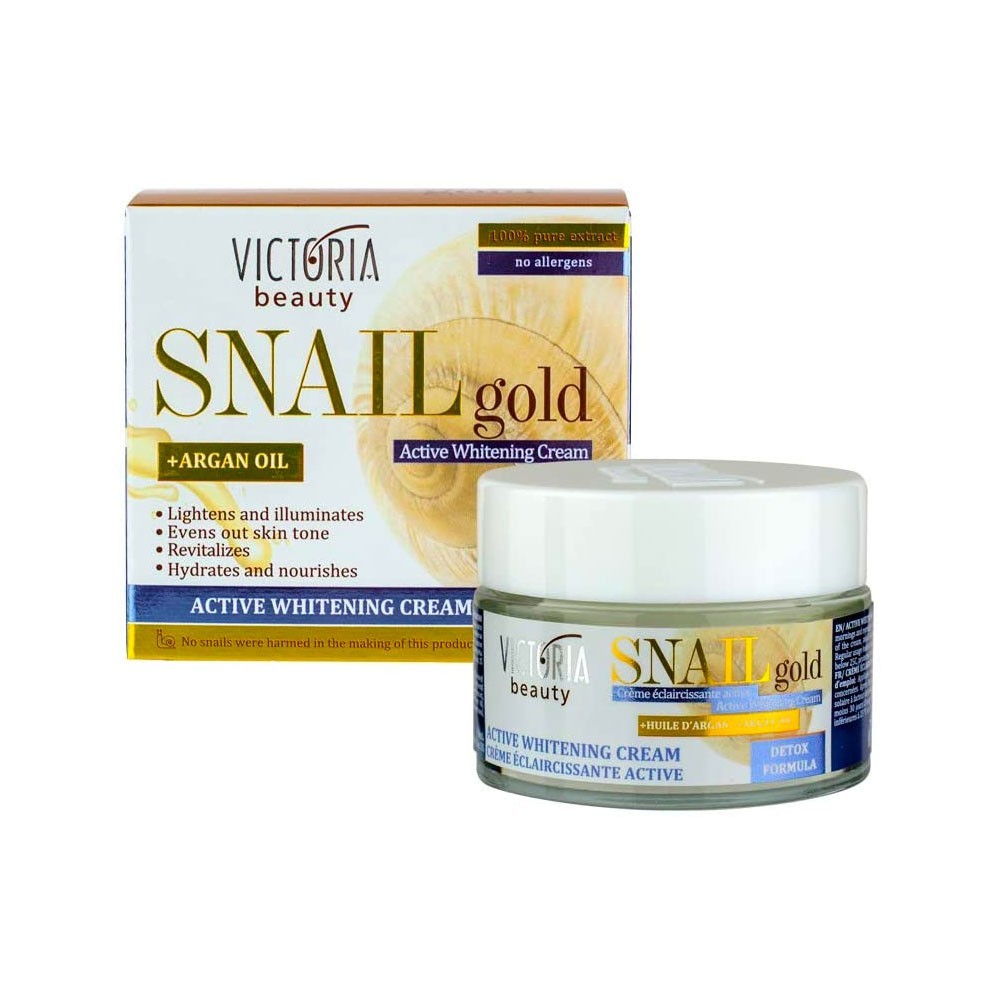 Lightening Face Cream with Snail Extract & Argan Oil 50ml Victoria Beauty
Victoria Beauty's Snail GOLD lightening face cream with Snail Extract and Argan Oil lightens and illuminates, evens out skin tone, revitalizes, hydrates and nourishes. 50ml.
Lightening Face Cream with Snail Extract & Argan Oil Victoria Beauty
LIGHTENING AND ILLUMINATING EFFECT ➤ Active Whitening Complex & Snail Extract – WONDER COMPOSITION FOR LIGHTER AND FRESHER SKIN with an even tone. Incredibly rich in skin lightening and brightening ingredients, snail extract perfectly complements the powerful properties of the whitening complex with its natural, gentle-on-skin action. The face cream is a fast and effective age spots remover that unifies the tone of the skin, promoting an even and bright complexion. The perfect pigmentation co
REJUVENATING AND MOISTURIZING THERAPY ➤Rich in youth-promoting snail extract, African shea butter, and 100% pure argan oil, the moisturizer not only evens out your skin tone, but also has powerful anti-aging properties. Saturating your skin with HEALTHFUL NUTRIENTS, VITAMINS, AND MINERALS the product supports its NATURAL RESTORATIVE MECHANISMS.
Found in snail extract ➤ VITAMIN A (RETINOL) to reduce small lines and wrinkles, VITAMIN C to brighten and fortify, VITAMIN E to protect, ALLANTOIN to
KOREAN-BEAUTY-INSPIRED PRODUCT ➤ employing many of the KOREAN SKIN CARE STAPLE INGREDIENTS and acting on multiple levels, targeting different skin problems, the product is a real BEAUTY CARE MULTITASKER. Light and luminous skin, perfectly moisturized and rejuvenated, 4 actions in 1 jar.

Ingredients /INCI: Acqua, Cetearyl Alcohol, Snail Secretion Filtrate, Argania Spinosa Kernel Oil, Caprylic/Capric Triglyceride, Isopropyl Myristate, Butyrospermum Parkii Butter, Petrolatum, Sodium Lactate, Glycerin, Ceteareth-20, Glyceryl Stearate, Sodium PCA, PEG-100 Stearate, Arctostaphylos Uva Ursi Leaf Extract, Parfum, Panthenol, 4-Butylresorcinol, Sodium Metabisulfite, Phenoxyethanol, Potassium Sorbate, Disodium EDTA, Citric Acid.

50ml.

6 other products in the same category: